Cub Scouts is a wide blend of both Cub-Only and family events that are fun, educational, and build character. Parental leadership is critical to Cub Scouts. Parents are trained to help Cubs enjoy the Scouting program and parents set the schedules and decide on events.  We also have some long-term non-parent experienced volunteer Scouters to help plan and lead.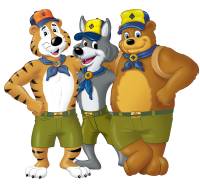 Contact
For more information about joining Cub Scouts in the Mad River Valley send us a note through this link and we get right back to you!
Details
Den meetings are usually weekly at the home of the Den Leader, the location of an activity, or at our sponsor, the Waitsfield Church.