If you've ever dreamed of having your own radio show, now's your chance!
WMRW is actively interested in radio program proposals. We are a "free format" non-commercial radio station , which means that as long as you follow a few FCC and station regulations, the content and style of your show is entirely determined by you. Most of our shows are weekly, and range from 1 to 2 hours in length. Check out the current program schedule to see if there are any time slots that might fit your schedule. Even if there are no openings currently, you should apply anyway and we'll put you on a waiting list for the time slots that do work for you.
Community involvement is key, and that's how we have become a grassroots homespun community radio station broadcasting live at least 12 hours a day, every day of the week.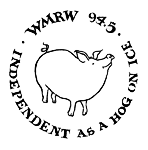 Contact
CALL 802-496-4951
EMAIL INFO@WMRW.ORG
LISTEN 94.5 FM
Mailing Address
PO Box 95, Warren, VT 05674.
Details
Click here for our handy Program Application.  Fill it out, submit it, and let's see what you have in mind.
You can either complete the pdf form on-line and return it to us via e-mail or you can print it out and mail it back to us to PO Box 95, Warren, VT 05674.